Founded with a mission of preparing students to compete, achieve and succeed
Veritas Prep Charter School was founded as a middle school in 2012 with a mission of preparing students to compete, achieve and succeed in high school, college and beyond. As Veritas grew, so did the number of family members, scholars and parents asking one question: when are we going to start a high school? We're proud to say Veritas Prep is opening its high school campus in Springfield in the fall of 2022!
During the 2020–21 school year, we gathered a diverse high school design team, bringing together Springfield community members, current and former Veritas scholars and families, and Veritas teachers, leaders and staff. With the right voices at the table, we have been able to reimagine what high school can look like and create a compelling, career-focused, early college model aligned to our vision of our Portrait of a Veritas Prep High School Graduate. We are excited to open our high school campus, where we can continue to support our scholars to compete, achieve and succeed!
The Veritas Prep high school program is designed to create the opportunity for scholars to meet essential high school graduation requirements while earning college credits toward useful degrees. VPCS scholars can complete 30 or more college credits for free, potentially completing two full years of college and even earning an associate's degree by high school graduation. Scholars will have multiple areas of study to choose from that cover a wide range of high-impact careers including health sciences, engineering, education and more.
Portrait of a VPHS Graduate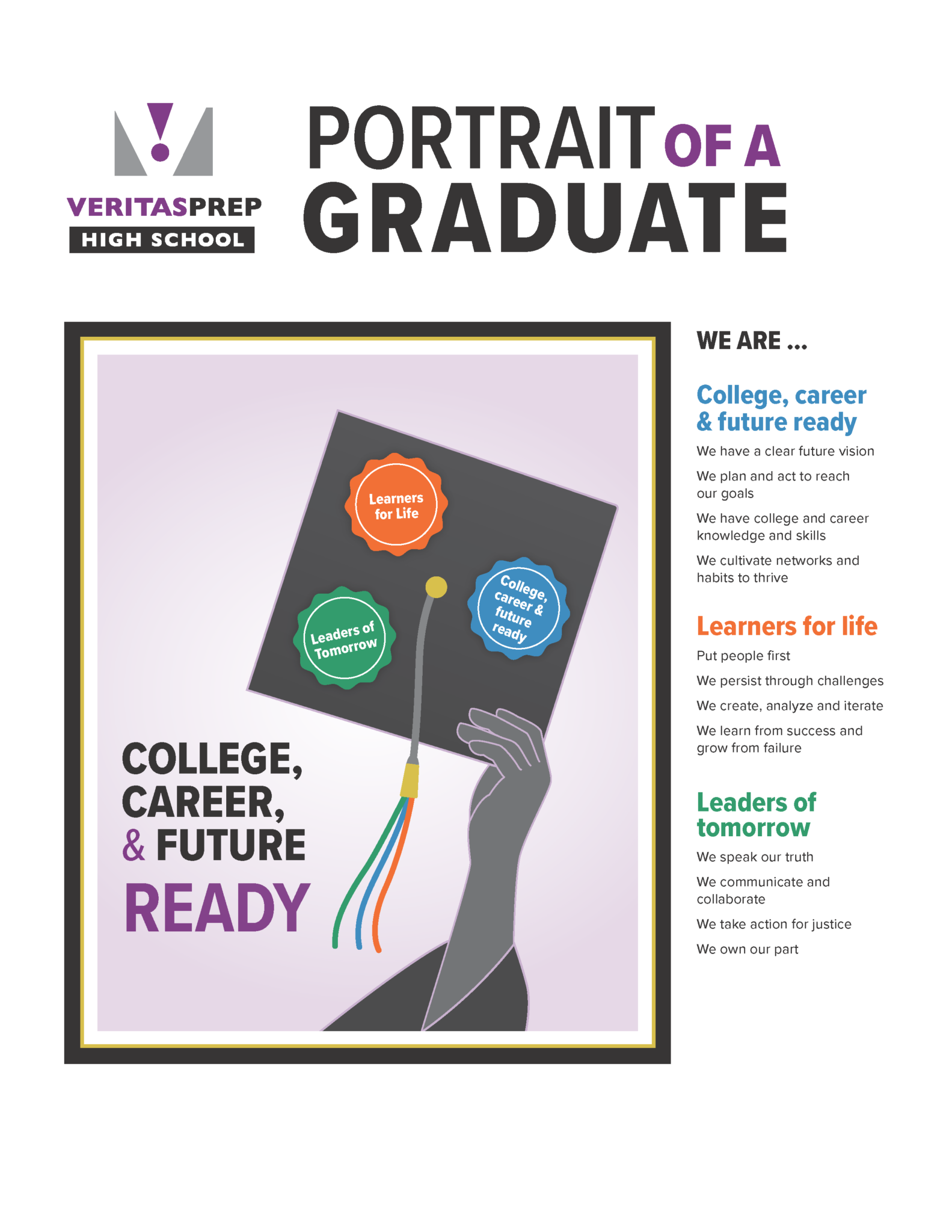 Enroll Your Child in Veritas Prep High School
Our lottery is now closed. To learn more about our enrollment and lottery process for the 23-24 school year, see here or email enrollment@vpcs.org.
Become a Part of Our Founding Team
Looking to be a part of something new and innovative? Apply to join our founding team! See all founding teacher and leader positions on the Join Our Team page. We are actively interviewing and hiring for the 2022–23 school year.
Want to learn more? Contact our recruiter at recruitment@vpcs.org to get all your questions answered! Also, keep an eye out for virtual and in-person information sessions and other opportunities by following Veritas Prep on Facebook and Instagram!