The Veritas Prep Charter School middle school was launched in 2012 and is located at 370 Pine Street in Springfield. Since its founding, Veritas Prep has continued to provide a high-quality education that fosters scholars' social/emotional, and academic success. Middle school student life is designed to help our scholars graduate ready to succeed at our high school, on a path to college or career, and poised to achieve amazing things. Learn more about our mission, vision, and values.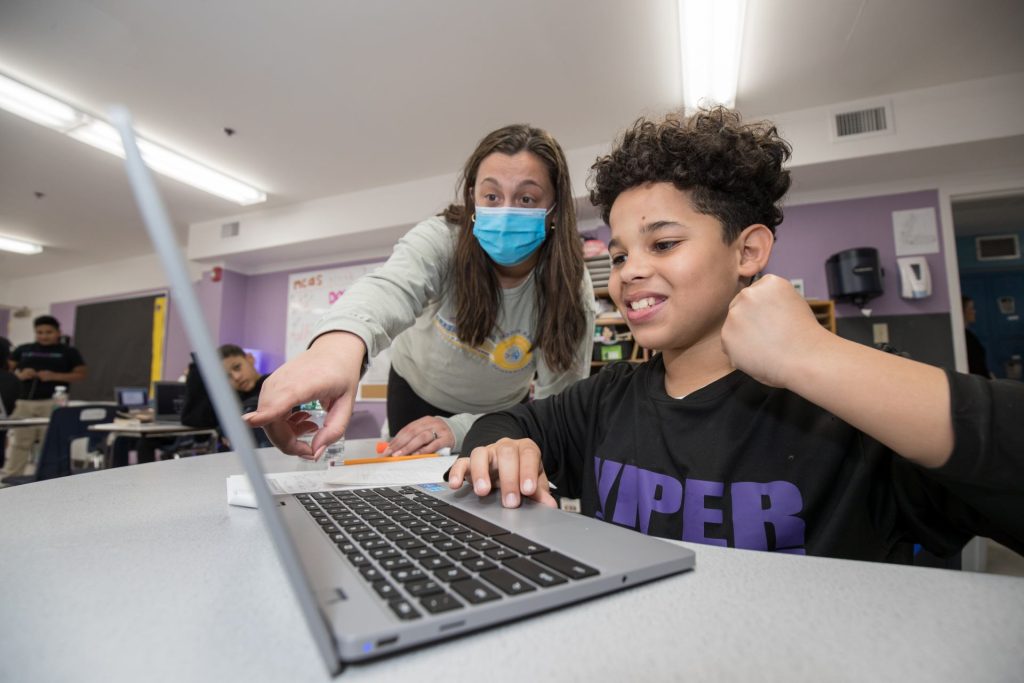 Academics
Veritas Prep schools provide a college prep curriculum in a safe, positive, and challenging learning environment that allows students to thrive both academically and socially. Our educators believe in expecting the best from every student and in the power of building strong relationships with students and families, creating a community that supports the achievement of all. We use data-driven instruction to ensure every student gets the support they need and to facilitate dramatic gains in scholar achievement.
We believe each of our scholars is college bound and hold them to high expectations. Delivering challenging, relevant content that requires scholars to embrace the struggle of learning is more engaging and more enduring. We achieve this by using culturally relevant, rigorous, standards-based curricula and responsive instructional methods that require our scholars to use critical thinking and dig deep into all academic subjects.
Students at Veritas Prep receive targeted tutoring time when teachers engage the scholars for small-group or individual support. Dedicated special education and EL teachers are connected with each grade level, ensuring that they also get to know scholars well and can partner with the teachers to support scholars' needs.
Each day, scholars engage in two ELA classes: one focused on reading and one on writing. Scholars deepen their mathematical thinking each day in two different math classes: one focused on problem-solving skills and one on accelerated learning. Scholars also receive instruction in social studies and science daily, as those subjects and the background knowledge built through those subjects are essential to our scholars' preparation for college and responsible citizenship.
The arts are also a key part of building our scholars' love of learning across multiple domains. Music, theater, and art are offered each week. Physical education is an important complement to the intellectual work done by scholars and is offered on rotating days each week.
Our scholars experience data-centric instruction through the school's focus on standards-based grading, which centers attention on a scholar's strengths and areas of development related to specific skills and knowledge. This data helps scholars to better set goals for themselves related to each subject area, and informs and engages families and stakeholders so that each scholar meets their full academic potential.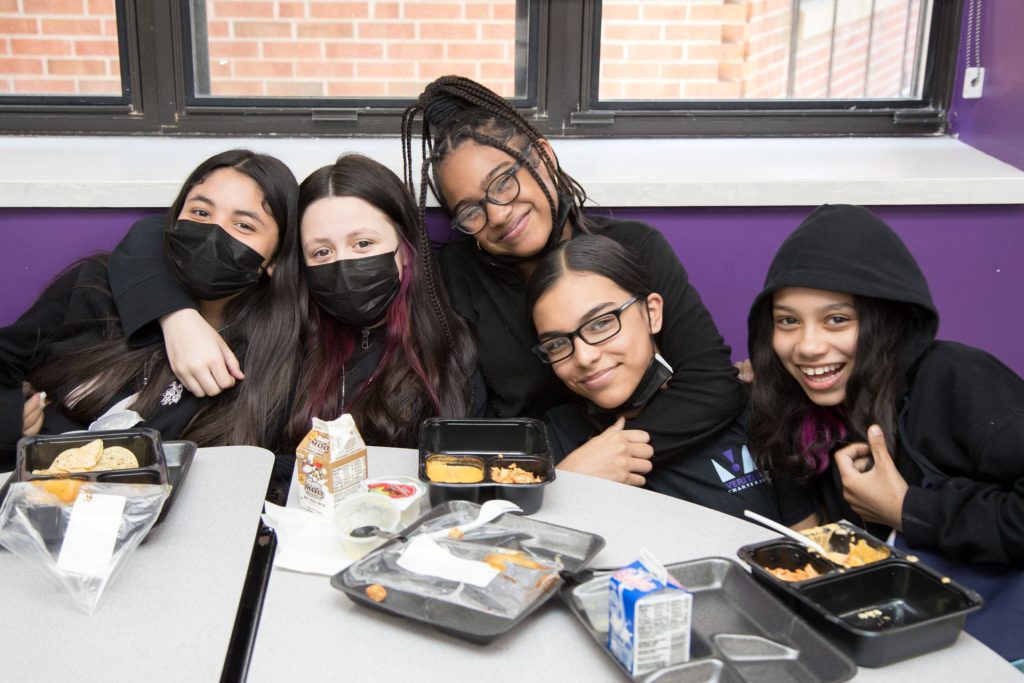 A Day in the Life of a Middle School Student
Sample schedule:
8:30–8:45 a.m. — ARRIVAL
Scholars enter the classroom to eat breakfast, have individual check-ins with advisory teachers, and start a short math practice to wake up their brains.
8:45–9:45 a.m. — MATH PROBLEM SOLVING
In this problem-solving math class, scholars engage in rigorous math problems that they are asked to solve in different and creative ways. Through problem solving, scholars are asked to use any information or tools they have to solve a problem. Scholars are then asked to share their strategies with peers and critique the reasoning of others.
9:45–11:15 a.m. — LITERATURE & WRITING
Scholars read a high-quality novel and engage in a rigorous class discussion about its overarching themes and plot elements. Explicit instruction and examination of writing help scholars develop their composition skills as they write about the novels they read.
11:15–11:35 a.m. — LUNCH
Scholars enjoy lunch and social time with their friends.
11:35 a.m.–12:20 p.m. — ENRICHMENT
Scholars engage in music, fitness, art, or theater class every day. Scholars have the opportunity to choose enrichment classes that pique their interests and also may suggest topics they'd like to learn more about.
12:20–1:00 p.m. — LITERACY LAB
Scholars have the opportunity for small-group or individually differentiated instruction in reading every day.
1:00–1:45 p.m. — SCIENCE
Scholars learn about the world they live in. Daily lessons involve earth, environmental, life, and physical science. Students have the opportunity to design and execute experiments with their peers in science labs to answer and ask questions about the world around them.
1:45–2:30 p.m. — HISTORY
Scholars study humans and their environment, world religions, government, and US and world history.
2:30–3:15 p.m. — MATH LAB
Scholars have the opportunity for small-group or individual differentiated instruction in math.
3:15–3:30 p.m. — DISMISSAL
After a day of working hard, scholars are dismissed. Many decide to stay after to participate in sports, clubs, and other activities offered due to the awesome dedication of our teachers.
Sports and Extracurriculars
---
Veritas Prep offers a variety of sports and extracurricular programs led by dedicated teachers and coaches such as:
Soccer
Basketball
Baseball
Cross Country
Volleyball
Art Club
Theater Club
Drumline
Veritas Voices (choir)
Student Ambassadors
VPCS Library
---
The Veritas Prep Library is a place where you are free to explore your passions and develop habits that will aid you in becoming a life-long reader and more importantly, learner. The library fosters an environment where reading is an ongoing journey. The goal is to cultivate a love of reading that ignites your curiosity and fuels a relentless pursuit of knowledge.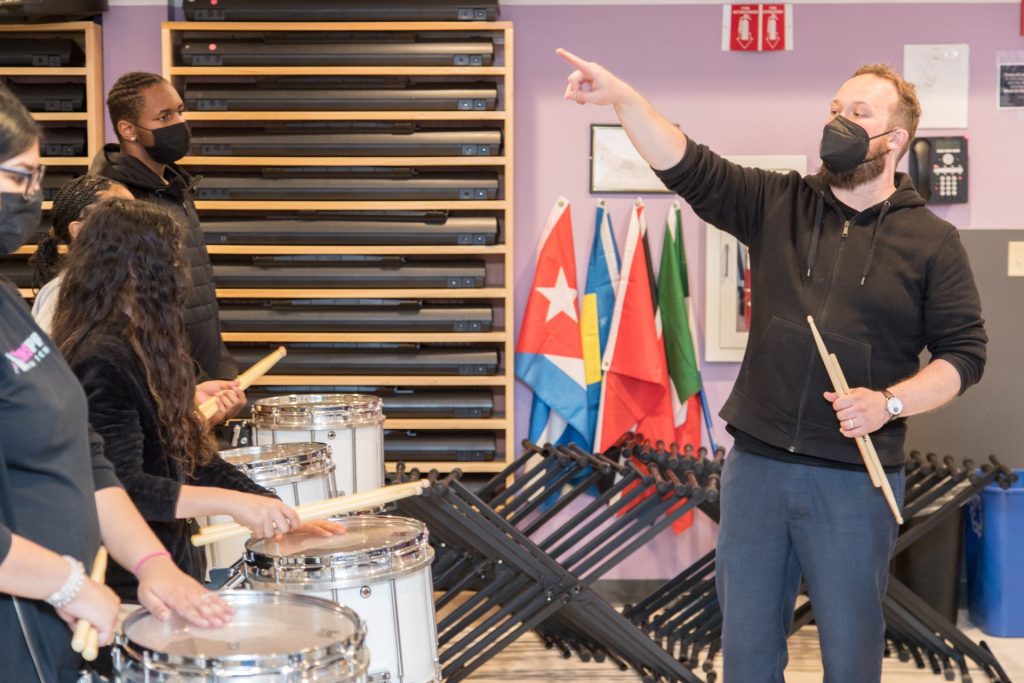 VIPER Values
Scholars learn more and better in a positive, loving community that supports them in reaching a high academic bar and where expectations and values are shared, clear and consistent. Scholars and staff uphold our VIPER values of:
Vision
We commit to setting a personal vision of success by honoring passions and dreams.
We commit to setting a shared vision of success for our community and classroom.
We commit to setting short-term goals to meet our long-term vision.
We commit to identifying and developing the habits that will help us achieve our goals.
We commit to giving and receiving feedback to strengthen ourselves and our community.
Identity
We commit to exploring and affirming our personal identities and cultures.
We commit to exploring and affirming the identity and culture of others.
We commit to being authentic and supportive leaders.
We commit to celebrating the brilliance of ourselves and our community.
Perseverance
We commit to holding ourselves and our teammates accountable for the success of our community.
We commit to persisting through challenges and using innovative problem-solving.
We commit to growing from mistakes and adversity.
We commit to upholding high expectations to support independent thinkers and learners.
Empowerment
We commit to growing confidence and self-advocacy.
We commit to disrupting injustice.
We commit to showing empathy to our teammates.
We commit to living out routines in order to create safe and supportive learning environments.
We commit to giving all stakeholders a voice: students, families, staff, and community members.
Relationships
We commit to leveraging relationships to build stronger communities.
We commit to actively stepping outside of our comfort zones to foster growth in ourselves and others.
We commit to being mindful of our biases and privileges in order to cultivate radically inclusive environments where everyone feels welcomed, valued, and understood.
We commit to creating joyful spaces where we celebrate all aspects of achievement.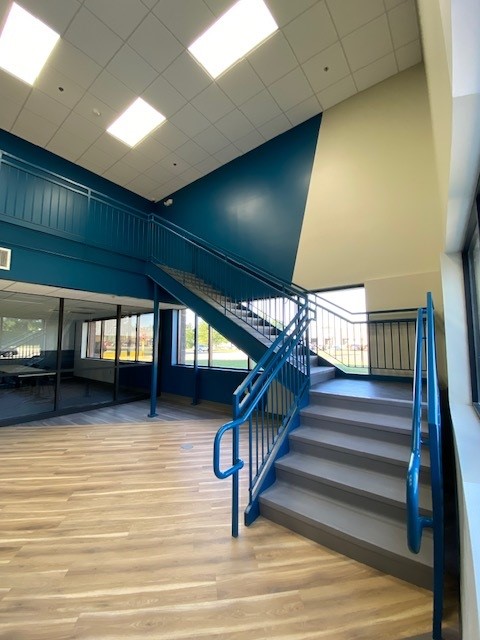 Support Us
Learn about the many ways you can support Veritas Prep and our students, from donations, to being a career speaker, to hosting an intern.