Open Roles
Looking for a teaching position that offers opportunities for support, growth, and development? Join us at Veritas Prep! Explore our current job openings and click on the link to review the description and apply. Not ready to apply? Our talent team is happy to review your resume, set up a school tour, or schedule an informational call.
Veritas Prep is an equal opportunity employer and does not discriminate against employees or qualified job applicants on the basis of race, religion, color, sex, age, national origin, disability, veteran or military status, marital status, sexual orientation, genetic information, gender identity or expression, or any other status or condition protected by applicable law. This policy extends to, but is not limited to, recruitment, selection, compensation, benefits, promotion, training, and termination.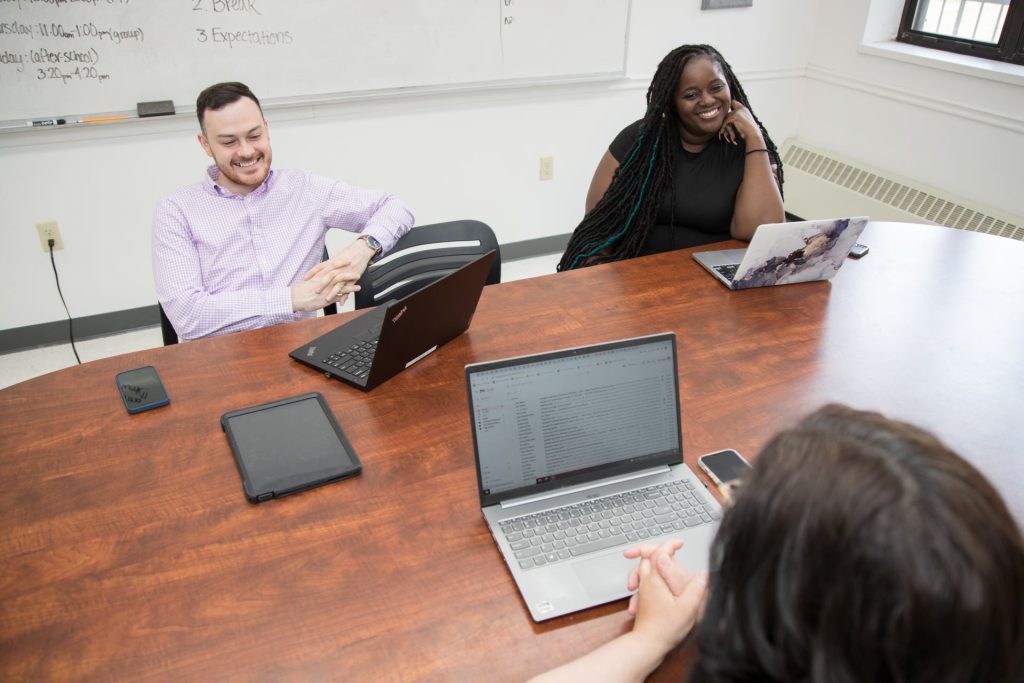 Why Work at Veritas?
You'll work with other talented educators and have access to world-class coaching!
We're committed to professional development for teachers, leaders, staff, and students. You'll get the coaching, feedback, and professional development you need to continually improve your practice and deliver the best instruction to all students.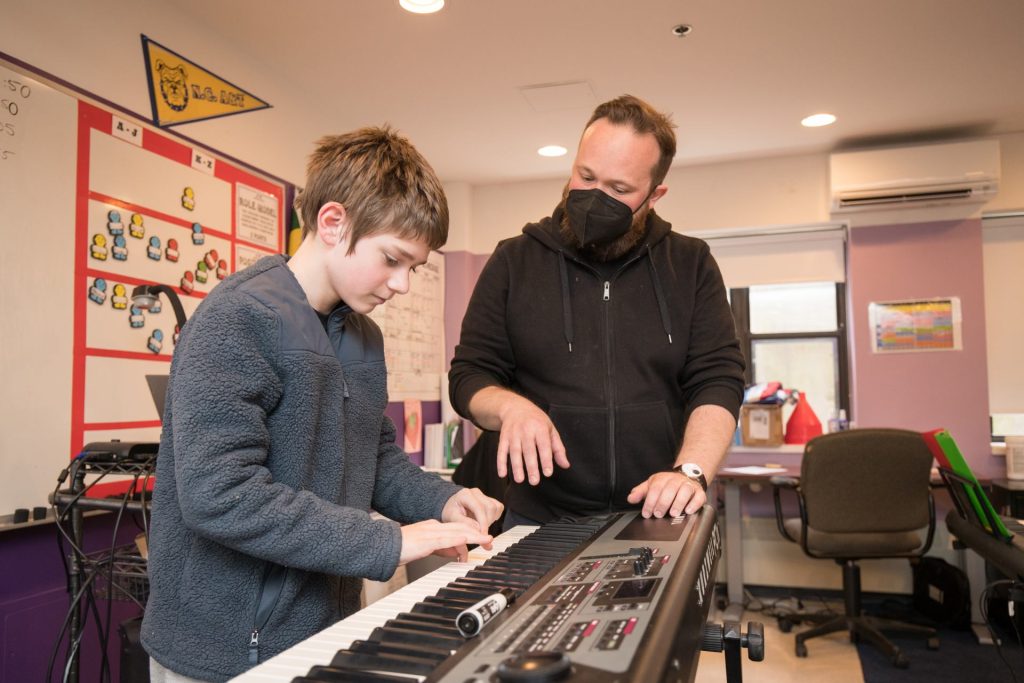 You'll be part of a collaborative community that believes in the potential of every student and every adult!
Our community depends on true collaboration and allows our teachers to develop strong relationships with each other and with their students and families. At Veritas, we know that together we can do anything!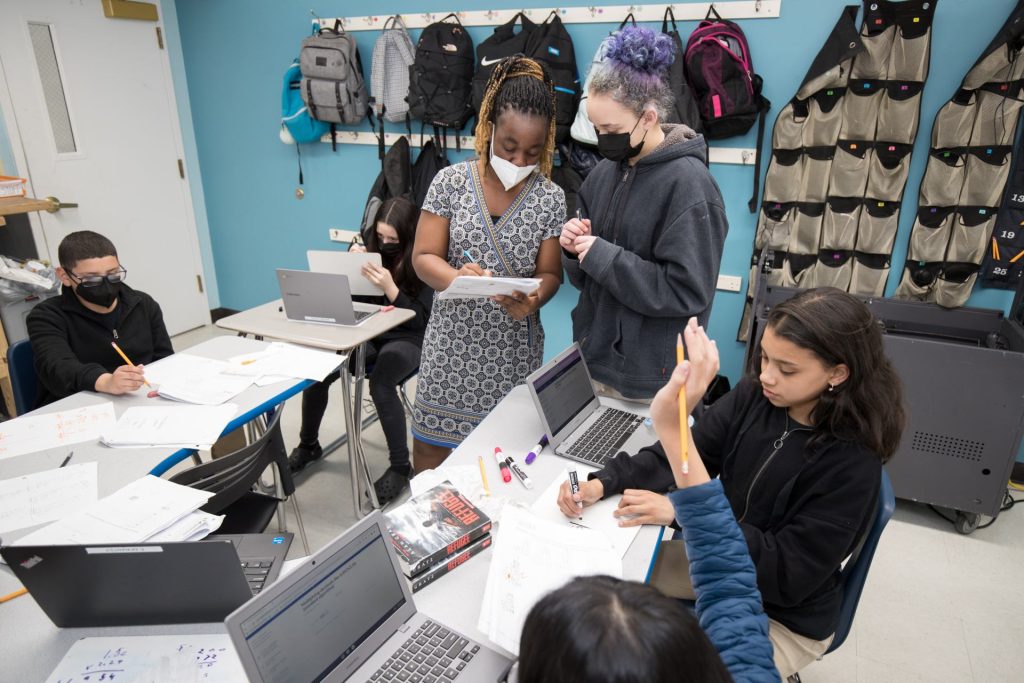 You'll disrupt the status quo in education, pushing back on systemic inequities and removing barriers.
Veritas Prep is committed to becoming an anti-racist organization where all students, families, and staff feel safe, seen, valued, and heard. As an educator, you'll participate in professional development around delivering culturally competent lessons, examining your own biases, recognizing and eradicating systemic inequities in education, and creating a school and classroom community that supports students of all identities and backgrounds.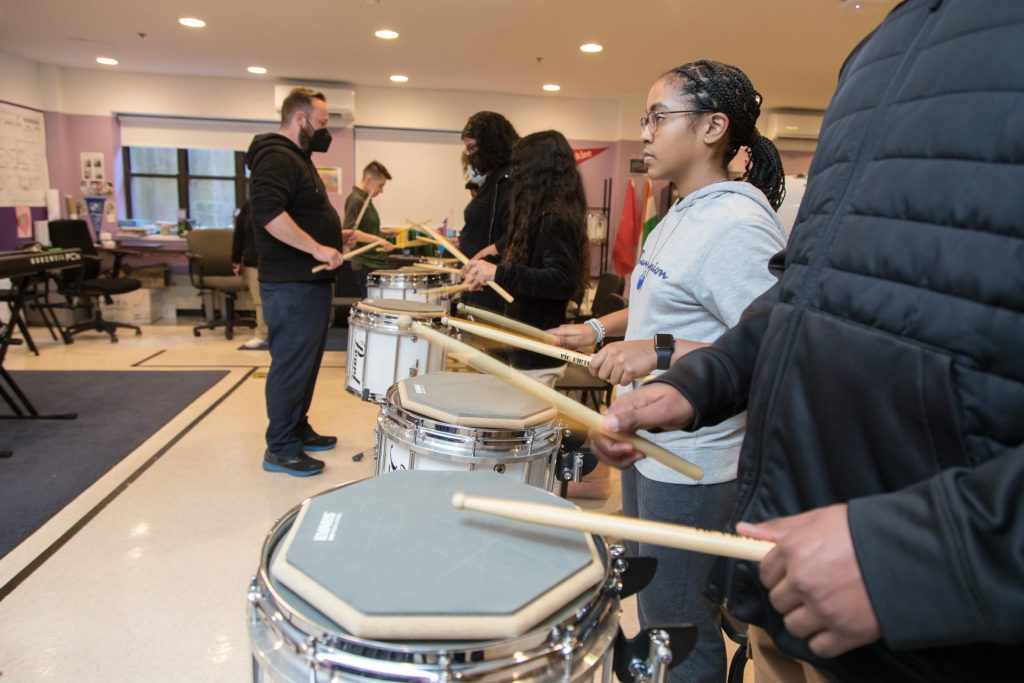 You'll be a part of an innovative and growing organization.
At Veritas Prep we use best practices and embrace innovation. With the launch of our high school in fall 2022, we are one of the only wall-to-wall early college programs in the state offering access to free college credits to all students.
You'll receive competitive pay and benefits!
Veritas Prep recently revised its compensation plan, and our new starting salary for a first-year teacher is $50,000 (+ $1,500 if you have a master's degree). We also offer comprehensive benefits for teachers including:
Health Insurance
Dental Insurance
Vision Insurance
Life Insurance
Workers' Compensation
Paid Family Leave
Disability Insurance
Paid Small Necessities Leave
Flexible Spending Account
Health Reimbursement Account
Dependent Care Account
MTRS/OBRA (Retirement)
Sick Days
Personal Days
Employee Assistance Program
Free Counseling for Teachers and Staff
Your own laptop
Check out an overview of our teacher benefits here.
In addition, we provide all the resources you need for your classroom; no more paying out of pocket for your own classroom supplies!
Opportunities for Leadership and Growth
At Veritas, you can use your current strengths and develop new skills through various opportunities for growth and leadership.
Grade Level Leads manage grade-level teams and communications across various stakeholders (students, staff, and families) to support, develop, and organize the respective grade level around the Veritas core mission and vision. Grade Level Leads gain leadership, management, data analysis, and facilitation skills.
Coaching Fellows work with the principal to support the school-wide academic program vision around student achievement and teacher development. Coaching Fellows coach and manage teachers through observation and weekly meetings, providing valuable feedback that helps teachers continually improve their practice. Coaching Fellows gain management, coaching, leadership, and facilitation skills.
Veritas is invested in the growth and development of its teachers and staff and to helping you gain skills and advance your career in flexible ways. We offer flexible fellowships for educators looking to develop their leadership skills and to learn more about other aspects of education. Previous fellowship areas have included Talent and Recruitment, Social/Emotional Learning, Family and Community Engagement, Anti-Racism, College and Career Readiness, and Coaching.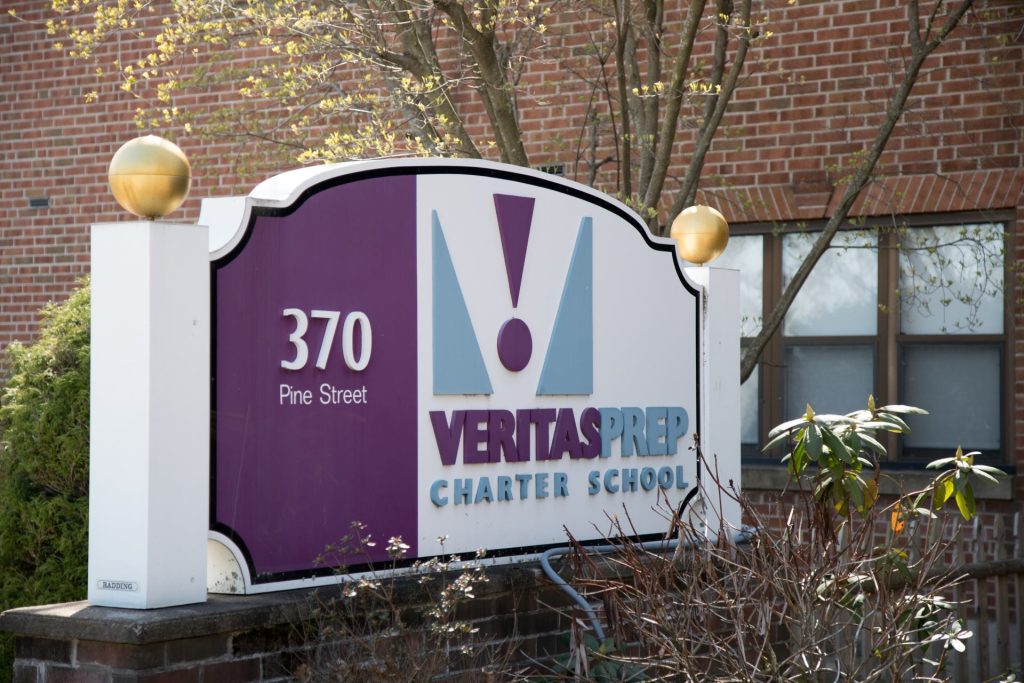 Associate Teacher Program
Interested in becoming a teacher but not sure where to start? The Associate Teacher (AT) Program at Veritas Prep can help you take the first step toward becoming a lead teacher.
Aspiring teachers in the AT Program receive comprehensive training, development, and support as they gain the skills and knowledge to become a lead teacher. As an AT, you'll work with a team of educators to support the academic and social/emotional success of Veritas Prep scholars.
Get hands-on experience.
In addition to participating in weekly learning and team building with the AT Coach and other ATs, you'll get hands-on experience through:
One-on-one and small-group tutoring
Planning and curriculum prep
Frequent classroom coverage
One-on-one coaching and feedback sessions
Real-time classroom practice, guided by an AT Coach
General FAQ
Veritas Prep is a charter school. What exactly does that mean?
Veritas Prep is a tuition-free, nonselective public school that is overseen by our Board of Directors and the Massachusetts Department of Elementary and Secondary Education (DESE). As a public school, we are accountable to DESE standards and must apply for renewal every five years. Any student in Springfield can apply to Veritas Prep and students are chosen via a lottery held each year.
I've heard that charter schools are for-profit and often don't serve students with disabilities or multilingual learners (students learning English). Is that true?
Veritas Prep, like all public schools, is a tuition-free nonselective nonprofit and serves students with disabilities and students who are learning English. The percentage of students receiving special education services at Veritas Prep is 20%, which is comparable to that of the Springfield Public Schools at 25%.
Do I need to get my teaching license in Massachusetts to work at Veritas?
For a teaching position, you don't have to hold a license to teach but you must have a bachelor's degree, pass the Communications and Literacy MTEL (Reading and Writing) and the MTEL for your subject area(s), and secure the SEI endorsement, within one year of hire.
What benefits does Veritas offer?
Optional benefits include Health, Dental, Vision, Flexible Spending Account (FSA), Dependent Care Account (DCA), and Health Reimbursement Account (HRA).
Standard benefits include Employee Assistance Program (EAP), Workers' Compensation, Life Insurance, Accidental Death/Dismemberment Insurance, Long-Term Disability Insurance, Paid Family Leave, Personal Days (3), Sick Days (up to 5) and Small Necessities Leave (24 hours per year).
Does Veritas Prep follow the same calendar, including vacations and holidays, as the Springfield Public Schools (SPS)?
Although our orientation begins earlier than SPS, we do align with the SPS calendar when it comes to vacation weeks (Thanksgiving, Winter Break, February Break, April Break) and holidays. Veritas offers 14 paid holidays during the year in addition to vacation weeks.
I work in a Massachusetts public school and don't want to lose my retirement benefits if I switch to a charter school. Do educators at Veritas pay into the Massachusetts Teacher Retirement System (MTRS)?
Yes! All Veritas employees also contribute to the Massachusetts Teacher Retirement System.
When are Veritas Prep employees eligible for benefits?
Employees are eligible for benefits on the first day of full-time employment, with the exception of sick days, which need to be accrued at a rate of approximately .5 days per month.
How many days are in the Veritas Prep school year?
Students: 180 days
Academic Staff (Teachers, Counselors, Culture Team, etc.): 200 days (estimated)
Non-Academic Staff (Principal, School Leaders, Operation Team, etc.): 260 days (estimated)
What are other requirements of being a Veritas Prep employee?
As a Veritas Prep employee, you are considered a Massachusetts state employee and are responsible for following state employee rules, including, but not limited to:
Conflict of Interest rules (training every two years)
Contributing to either the Massachusetts Teacher Retirement System (MTRS) or a Mass Smart Plan (OBRA)
Federal and State Board of Education laws, rules and regulations, including but not limited to, Civil Rights, Confidentiality, Mandated Reporting, etc.
Learn More About Us
We have designed a school experience that defies the status quo and changes the trajectory of our scholars' college and career pathways. Find out what makes us so different.